Hi everyone
Michele here today
My layout for today is called ''2 gifts''. It features our two furry family members, Sasha and Tango.
The base paper is the reverse of
French Hen
, which is a lovely dark green around the edges, gradually lightening in the centre. This paper is covered in a tiny music pattern and has a gorgeous wreath on one side. Matching this perfectly is the die cut
Glimmer,
which I used as my photo mat. This die cut paper is 12 x 12 in size, so I cut mine down so that it only covers one side of my page. To do this I had to cut around about three inches from both the height and the width, so I cut strips out of the centre of the page and rejoined the edges. I used these strips later as tags in a Mini Album - nothing wasted! Once the photos and other embellishments are on the page, the cut lines are not visible.
On this layout there are quite a few layers underneath my photos. First there are two
white doilies
, one at the top and one balancing it on the other side at the bottom. Across the centre there are three thin strips. The first is a punched strip of
Partridge
, then there is a thin
cream cotton scalloped lace
, and on top of that some brown and gold ric rac that I found in a bargain bin at Spotlight...bargain!
On the right hand side I tucked three tags in-between the photos. All three are from
To Froms
- a perforated page of three different sized tags - such a good idea! The central tag has part of my title on it ... one of the ''2's'' from the
12x12 Number Sticker Sheet
.
At the bottom, just peeking out from under the photo, is a scalloped border from the
12x12 Sticker Sheet
(I cut it in half) and, a bit further over, a punched strip of some pretty cream and gold paper from the matching 6.5'' Paper Pad. The gold dots are foil and look perfect on the creamy paper. I also used this same paper to die cut some leaves, which are scattered around my flower clusters. These (along with practically everything else) are inked on the edges with
Vintage Photo Distress Ink
- my go-to ink at the moment for absolutely everything.
On to the embellishments...starting from the top.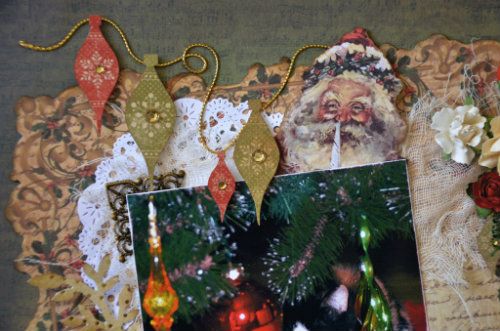 After sticking down the doily I added a piece of frayed muslin, which I think softens the stark white and adds great texture. When I add muslin I like to put down a line of
Double Sided Tape
around about the centre and roughly arrange the fabric around it. That way the outside areas are free of glue, but the whole is still stable so you can arrange the whispy edges easily.
Then I stuck the photo down and added a small filigree corner, cut from the
Antique Bronze Square Filigree
in store. Next I created a sort of banner, using pieces fussy cut from
Baubles
. Each has a sparkly rhinestone added and is popped up on Dimensional Tape. The gold cord was twisted and glued behind them afterwards. Santa's head peeping out from under the photo is a die cut from the
Collectables Pack
and covers a small piece of the join in the photo mat.
A couple more baubles are hanging on the right of the photo under a cluster of flowers. There are some Kaisercraft Mini Paper Blooms, a couple of larger Coconut Paper Blooms, some
White Roses
, some
Red Roses
and a
Red 7mm Rose Bud
. There is also a Kaisercraft Wooden Flourish, which has been embossed with
Stampendous Aged Gold embossing enamel
(oos). I left the stems on a few of my flowers and coiled them around a skewer to create tendrils.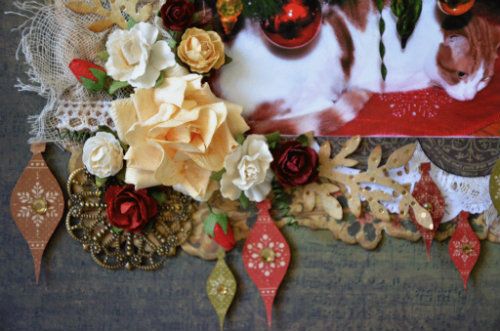 Across the bottom of the layout there are more of the same treatments. Another piece of muslin, more of the spotted gold leaves and of course more flowers. Here there is the addition of a larger cream
Gardenia
flower and an
Antique Bronze Round Flower
filigree with a
Red Rose
in it's centre, and more of the baubles appear to be hanging from the flowers.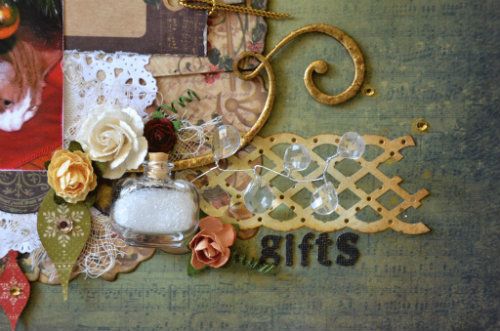 Another
Aged Gold embossed
flourish has been popped in under the flowers and I have filled a tiny glass bottle like the my2angels
vial bottles
with
Diamond Dust
(DD will be back in stock next week). There is a crystal branch from my stash here, balancing another one that is on the left hand side of the photos. Under this is the second part of my title - ''gifts'' - using Prima alphas.
Finally, I lightly covered my photos and some of the embellishments with baby wipes to protect them and added a spray of
Gold Glimmermist
over the whole right hand side of the layout. After spraying, I also flicked some larger spots of gold over the page and where these were quite prominent I also added a
Topaz Rhinestone
to add to the sparkle. Very pretty - I hope you enjoy :)
and
Kaisercraft's Turtle Dove with lots of my2angels embellishments
My OTP for Christmas this year (I always seem to do one at Christmas...a strange compulsion LOL!) is a

n

Advent House that I have had in my stash for a while now. It is finally seeing the light of day with the lovely Kaisercraft
Turtle Dove
embellishing it.
Before anything else, I painted all the wooden pieces with Metallic Gold acrylic paint, and before assembling it I covered the base piece with the reverse of
Geese
at the front and with
Calling Birds
on the back and sides. Sadly, when taking my photos I forgot to leave a drawer or two out so that you could see the backing paper...
Geese
is a pretty white and gold swirly paper that looks great with the flourishes on the roof.
The roof and chimney are covered in a deep red embossed paper from the
6.5'' Paper Pad
, and the same paper is punched to add the lacey eaves at the front and back of the roof.
There are two Wooden Flourishes, heat embossed using Stampendous Aged Ivory embossing enamel (oos) decorating the front of the roof, and two die cut bracket shapes from the 6.5'' Paper Pad act as a base for the house number - 25 of course . Also embellishing the front are some metal pieces from my2angels. A large central Filigree Flower, with rhinestones decorating its centre, has two pieces of Antique Bronze Iron Chain attached to it from which dangle an Antique Bronze Timepiece and an Antique Bronze Key. On top of the chimney is a
Birds Nest
and inside it there are a few red feathers and a chipboard bird that has been inked on both sides with Fired Brick Distress Ink and then coated with
Glossy Accents. (oos)
I think I have used a piece of just about every paper, both the 12x12 and the 6x6 versions of Turtle Dove, to make them. Each is embellished with a number from 1 - 24 and the majority of these are from the
12 x 12 Number Stickers
sheet. Each little box is decorated differently. I have added some Die Cut stickers, also from the
12 x 12 Number Stickers
sheet, Red and White Roses
or chipboard embellishments. My chipboard Birds and Stars are either inked with Fired Brick Distress Ink or Brilliance Gold Ink and covered in
Glossy Accents
, or embossed with Stampendous Aged Gold embossing enamel.
There are also some cute Antique Gold charms and some silver charms that I have embossed using gold embossing powder to change their colour. They include an Antique Bronze Door & Key, a Christmas Tree charm, a Coathanger, a Cuckoo Clock, a tiny Lantern, a Violin, and some Snowflakes, There are also some white s
nowflake eyelets
, and various rhinestones
and pearls scattered across the whole.
You can put the treat filled drawers into their places in order if you want to, but I prefer the fun that comes with the challenge of looking for the correct number every day :)
The sides and the back of this project are not really meant to be seen, so all I have done to embellish them is to add a few embossed chipboard pieces. On the back there is another Aged Ivory embossed flourish and a large Aged Gold embossed

chipboard

Reindeer, and on each side an Aged Gold Angel
.
Finally, and the best bit about the front of the house in my opinion, is the amazingly cute Ideaology Lantern...when it's turned on it makes you go Ahhhh!!! The l

anterns will be back in stock on Friday 30th
I hope you are all ready for Christmas - unlike me - and have a fabulous holiday season planned.
Michele
Hi Geli here
The
"Just Believe" collection from Kaisercraft is my favourite this Christmas. I just love the soft blue and rich red. Find the range
here
at my2angels with the Christmas papers.
I made this layout with it:
Stock update
We are expecting a large restock order

to arrive

Tuesday 4th December, eg Diamond Dust, Glossy Accents, Dimensional Magic and Tim Holtz products
and New Kaisercraft papers arriving any day now
so pop them in your wish list you don't miss out